---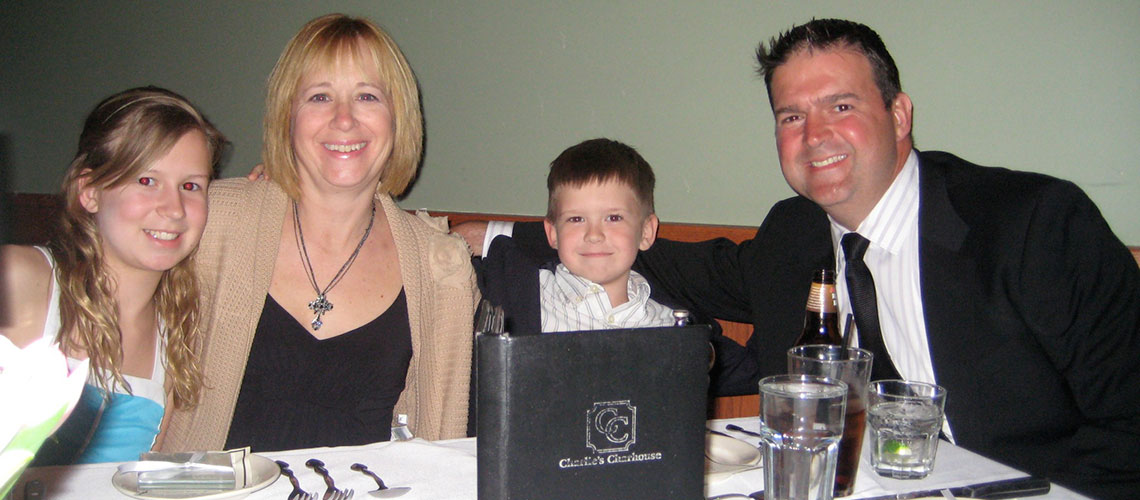 Colette's Story
---
It doesn't seem fair. How could this be so?
I prayed, I pleaded. Why is it your time to go?

You had the strength and courage to fight every day
And even on the hardest days, you'd say
"Everything will be OK!"

You were my everything—my wife, my best friend
Now that you're gone, where do I begin?
Colette Miles was only 41 when she was diagnosed with stage 3 breast cancer in 2002. At the time, she was a wife and mother of two very young children—a 5-year old daughter and 8-month old son. Over the next several months, she endured surgery, chemotherapy, radiation, along with multiple tests and doctors visits. Through it all, she maintained her positive attitude and beautiful demeanor. Colette attributed her fearless character to the wonderful support of her family and friends. By late 2003, she was declared cancer-free.
As a cancer survivor, Colette had a new perspective on life and enjoyed life to the fullest. She traveled, scrap booked and devoted her life to her family.
Unfortunately, after a routine follow-up in 2009, she was told the cancer had returned. For the next two years, Colette underwent extensive treatments and various procedures. Once again, she remained cheerful and bubbly as ever. Colette lost her battle with cancer in 2011 but through her courage, determination and positive attitude, she inspired many.
During her battles with cancer, Colette received amazing support from her family and many wonderful friends. This support inspired Colette and provided the strength she needed to keep fighting. This comfort was the key to her fortitude.
The Colette A. Miles Foundation / TCAMF "Friends for Courage" was founded in her memory but inspired by the endless support she received. Colette's wishes were to "pay it forward" to those who may be battling the ultimate fight. Therefore, the mission of TCAMF is to provide the same caring support to individuals diagnosed with cancer and their families. All of the efforts through TCAMF will be in Colette's honor.
Our organization is a federally registered 501 (c)(3) not for profit organization.